Kris Hughston @ Hughston Insurance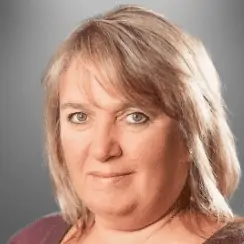 Hughston Insurance provides financial security and peace of mind for you and your family as if you are Kris's family!
What's a fun fact about you that people don't know?
I am an advanced licensed scuba diver and have dove in places like Curacao, Mexico, Hawaii, Costa Rica and our beloved Georgian Bay to name a few. I have played with sea turtles, swam with the stingrays, followed a forever changing coloured octopus and have thousands of pictures of every coloured fish you can imagine. My most favourite is the ever curious bass who like to follow your every move in our own chilly waters of Georgian Bay!
What's the smartest thing you've done in your business?
Choosing to work from my home office was the best decision to keep expenses down yet provide a professional office space to meet with clients. I practice what I preach when it comes to budgeting and saving money. My no frills approach is how I lead by example and I believe my clients appreciate the true me.
If you could give your younger self ONE piece of advice, what would it be?
My mantra is "live every day like it's your last without any regrets" however if I could turn back the clock, we would have kept our first house and rented it out over the years as savings for our retirement. Real estate is another great opportunity to hold in your financial portfolio.
What do you wish every Client knew about doing business with you?
I provide an honest approach that will focus on the client's needs and their budget. When you become a client of mine you become my extended family. My passion is helping people and I am proud of the work that I have done within my business and my community. From securing insurance for the hard to insure or helping a client start their retirement savings to raising money for the Barrie Food Bank, launching Project Lifesaver Simcoe or being the President of the Board at the Barrie Chamber of Commerce, I give 110% to anyone I work with.