Use Bullets To Give Your Writing A Big Boost
Maybe it's because of how simple they look that bullets are underappreciated for their power to engage and convert. With a little bit of thought, adding a well written bullet to your writing will:
Capture your reader's attention by drawing their eye to the bullets, increasing the likelihood that they'll keep reading.
Makes your writing automatically easier to read because bullets are easier for people to mentally process, making your writing more influential.
Raises the quality of your writing because writing a bullet forces you to distill an important point into one tightly written thought that increases your conversion rate.
3 Bullet Templates To Get You Started
There are a lot of ways to craft bullets but here are 3 easy templates for you to get started with:
Feature + Benefit
(See the first 3 bullets in this article for an example)

How To Bullet. One of the highest converting phrases is "how-to".
("How to pay yourself as a business owner before the rest of your bills")

Probing Question.
("Do you know the simple trick that automatically makes your writing 2X more likely to get the phone to ring?")
Tips For the Effective Use of Bullets
Here are some tips to power-up your bullets (of course, there are always exceptions)
Keep your bullets between 3 and 5.
Put your best bullets at the beginning and end of your list.
Don't have to be (proper) sentences!
Start your bullets with something interesting (e.g., a compelling benefit, number, a surprising fact)
Bold keywords to draw the eye to important points you want to stick in the mind of your reader.
Take Bullets To The Next Level
But bullets don't just have to be a list of "points". With a little bit of design flourish, they can be transformed into interactive boxes that transforms lengthy copy into powerful visual content. Here are two examples from our own site:
Example 1: Transform Paragraphs into Blocks
In this first example, we originally had a paragraph describing our process. Boring. By breaking out the 3 steps into 3 distinct points with a visual, we transformed it into something much more engaging and understandable.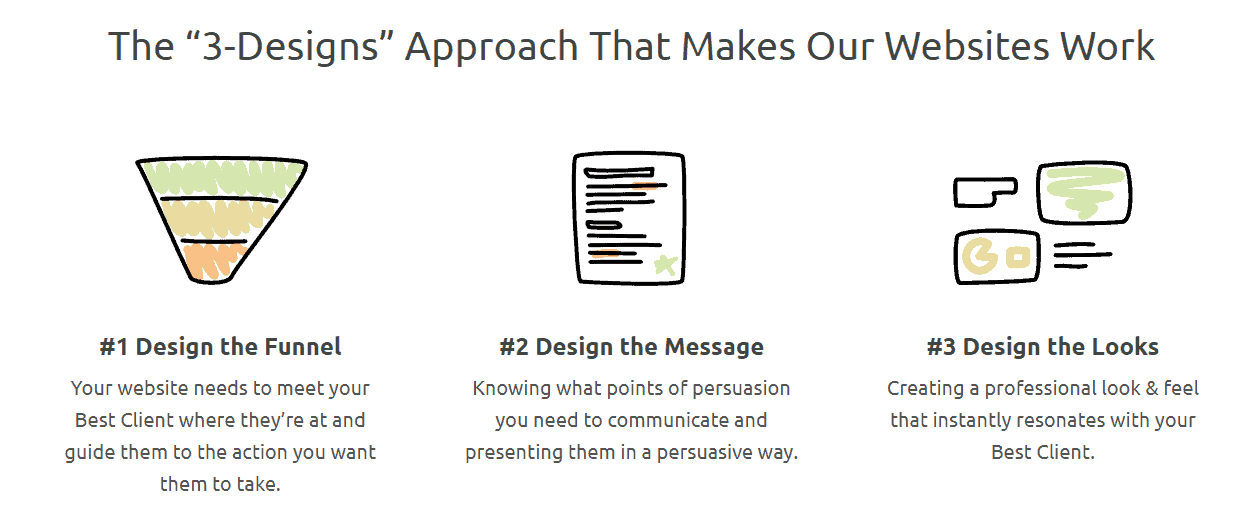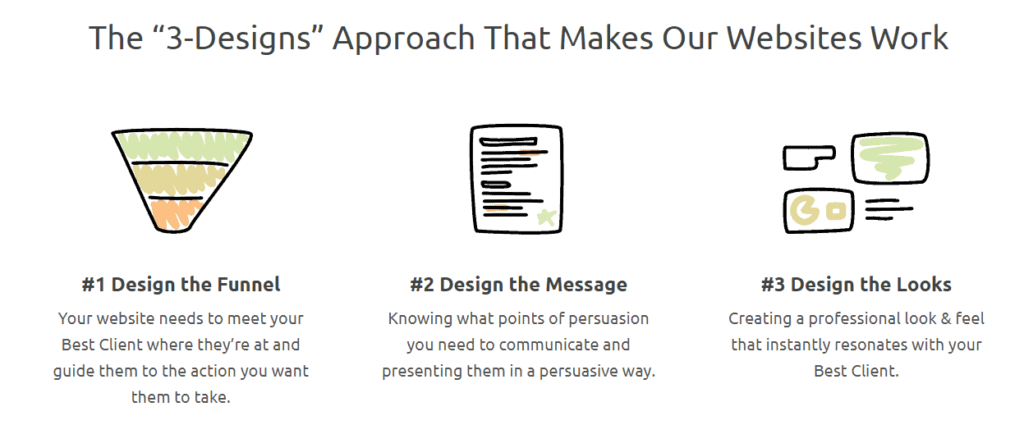 Example 2: Transform a list into a series of blocks.
In this example, we had a list of features. Boring. We transformed the list into a series of boxes and wrote them to be more benefit leaning. To give the bullets a bit of extra punch, we made them interactive so that when the reader hovers over a box, the shading changes.
Next Steps:
Here's a quick challenge for you. Take a look at your home and main service pages on your website:
Pick one idea from the writing on your website and
Is there text there that can be replaced and sharpened with bullets?
Can you replace a paragraph (or two or three!) with designed "bullet boxes"?
Giving your writing the bullet treatment is a high-leverage activity that gives your marketing an instant boost in effectiveness. Time well spent.
Giving your writing the bullet treatment is a high-leverage activity that gives your marketing an instant boost in effectiveness. Time well spent.
---
What's Your Gravity Score?
Find Out What It Takes To Get The Best Clients
The Top 3 Professionals in your city have an unfair advantage in the market. It's unfair because the Top 3—regardless of how good you are—get 80% of all the Best Clients.
Your Gravity Score tells you how much gravitational pull you currently have in your market. It's also your marketing blueprint that shows you exactly what you need to work on and in what order to achieve coveted Top 3 status and get the Best Clients Advantage.