Harness the Results from your Website
In the past we've relied on various methods to track website statistics: StatCounter, Google Analytics, Awstats and so on. Starting in June, we've standardized on Google Analytics as our preferred method of tracking and analyzing results on a website.
We picked Google Analytics for a number of reasons: (1) clear favourite of website professionals making it widely supported and documented, (2) user-friendly graphs and stats, (3) your stats keep compiling even if you swtich hosts, (4) they use Absolute Unique Vistiors (more on that later) and (5) sophisticated tools when you're ready for advanced tracking.
In this article, I want to introduce you to the important basics of what you can do with Google Analytics and motivate you to become more in tune to how your website is performing so you can start getting more Results from your website.
The number one question we hear about a website's results is: "How much traffic am I getting?" And like a lot of things, the answer can be somewhat confusing…do you mean number of: page hits, page loads, impressions, visitors, returning visitors, unique vistors, etc.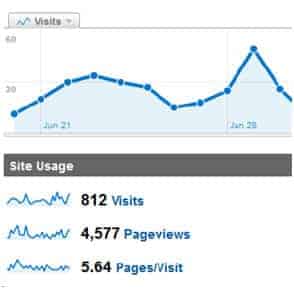 The best number to look at is "absolute unique visitors". This is different than just "unique visitors". I'll save you the long technical answer as to what the big difference is suffice it to say that "unique visitors" is not nearly as accurate/truthful a number as "absolute unique visitor" is.
Simply put, each "absolute unique visitor" is a different person coming to your website. For example: if I go to your website at 10:00 AM and then later at 3:00 PM and again in 2 weeks from now, I am counted as one absolute unique visitor. (had this been the lesser "unique visitor" metric, I may have been counted as 2 and possibly 3 unique visitors because of the lapse in time). The "absolute unique visitor" number does a much better job of being real.
This is just one very important number that Google Analytics will give you. Some other very important questions you can answer are:
Where are they coming from?
How long do they stay?
What keywords did they use to find us?
How many pages are they going to?
What are the most popular pages?
Getting to know how much traffic is coming to your site is just the beginning. Getting to know the nature of that traffic can unlock the secrets of what's working and (more importantly) what's not working. Aided with this information, you can begin to make some intelligent changes to your online marketing.
Next Actions: 1-2-3. (1) If your site has Google Analytics installed, start checking it on a regular basis. If your site doesn't have Google Analytics, get it now! (2) Get familiar with the number and nature of visitors coming to your site, (3) Decide upon and implement a change to your site and see how that changes your Results.