Is it Time to Get a Mobile Responsive Website?
At the last 3 talks I've given, I've asked these 3 questions:
How many of you have a smart phone? Nearly all hands raised.

How many of you browse websites on it? Nearly all hands raised.

How many of you know the number of people going to

your website on a smart phone? Almost

no hands

raised.
Most small business owners don't know how many people are going to their website on a mobile device. It's easy to find out…Google Analytics (which I'm hoping you've got on your website) will tell you very quickly.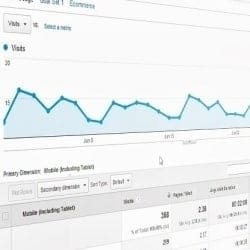 The nice thing about managing so many Client websites across so many industries is that we get to see what's happening, what's working, what's not. In the past 6 to 9 months, we've seen a significant rise in the percentage of website visitors using tablets and smart phones to go to our Clients' sites.
What's significant?
We used to see 2%, 5%…now it's common to see 10%, 15%, 20%…we have one Client who is getting 50%!
The trend is clear…there are way more people going to the websites of the local small business using tablets and smart phones. After looking at your Google Analytics, here are my general recommendations as to what you should be doing:
| | |
| --- | --- |
| 0% – 5% | No need to rush into anything…continue to monitor. |
| 6% – 10% | Start to consider. |
| 10% – 15% | Start planning. |
| 15%+ | Get on it…fast! |
All of the web designs we do are Mobile Responsive; it's really just a matter of time when most existing websites will need to make the transition to becoming mobile friendly.
At GravityStack Marketing, we're actively working on revamping our own website to rise to the needs of the mobile visitor and to reflect the many changes that have happened this past year; we've seen a 108% increase in mobile visitors to our site from this time last year.
If you need help accessing your Google Analytics or have questions about making your website Mobile Responsive, we're here to answer any questions you may have.